Digital media research helps distance learning go further, faster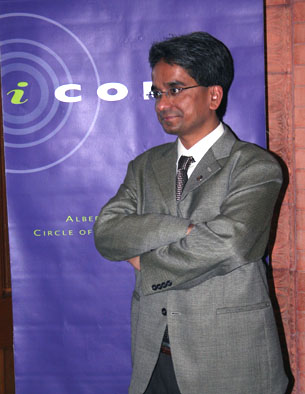 Innovation Alberta
Subject: Launch of iCORE/Gautam Rao Industry Research Chair in Multimedia
Audio:
Download Audio
http://www.innovationalberta.com/search.php?keys=218
by Cheryl Croucher (Novenmber 28,2006, CKUA Radio)
---
November 16, 2006 - Edmonton - There's no reason why children the world over shouldn't have access to the same education opportunities, according to the University of Alberta's newest iCORE research chair.
"Digital media can significantly expand the reach and impact of education," said Dr. Anup Basu, a U of A professor who was appointed as the iCORE/Gautam Rao Industry Chair in Multimedia. "Greater use of this technology could help us reach out to many parts of the world where a Kindergarten to Grade 12 education is now only a dream."
Establishment of the chair will help Basu's research team focus on improving group and co-operative online learning experiences.
"In simple terms, we'd like to make multi-media adaptive testing available in the K-to-12 sector to anyone, any time and anywhere," Basu said. "We need to also look beyond our local interests. The technology we want to develop can be transferred anywhere. So somebody in Africa, in the desert, with a cell phone, should be able to access the same educational tools that we can have here."
The new research chair is supported by an iCORE Industry Chair Establishment grant of $100,000 per year over five years. Castle Rock Research is also providing $100,000 per year over five years.
"This was the perfect opportunity to invest in research, which will define assessment and evaluation in the future," said Gautam Rao, president of Castle Rock and a U of A alumnus.
U of A Dean of Science Dr. Gregory Taylor said a key strength of the Faculty of Science, where the research group will be located, is leadership in technology and knowledge transfer . the crucial last step in putting ideas to effective use.
"We are finding innovative ways to partner with industry, the provincial government, and others to maximize the benefits of research through effective technology transfer," said Taylor. "Our alumni, like Gautam Rao, understand the value of research and understand the value partnerships like this bring to both industry and the university."
Castle Rock Research is an educational resource company that provides print and online curriculum-based resources to students, parents and educators across Western Canada. The company is both a financial partner and a tester of the research.
Basu's goal is to improve distance learning and find ways for educators to use wireless technology to improve and deliver distance-learning opportunities.
"Distance and online learning play a vital role in supporting life-long learning by providing learners with flexibility and a broader range of program delivery options," said Dr. Bob Fessenden, deputy minister of Alberta Innovation and Science. "With further advances in extending Internet access across the world, and Dr. Basu's enhanced online learning capabilities, a Kindergarten-to-Grade 12 education may soon be possible for the seven million school-aged children displaced within their own countries due to conflict, and currently without access to education."